Mid-Continental Restoration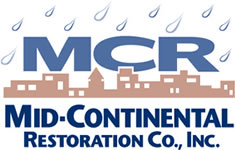 Mid-Continental Restoration is an award-winning company based in Ft. Scott, Kansas that has been providing professional restoration and construction services for more than 70 years. Specializing in the repair and restoration of exterior masonry and concrete surfaces, they employ highly-skilled craftsmen who are trained in the proper techniques for restoring brick, mortar, limestone, terra cotta, stucco, and concrete surfaces. Mike Engstrom, Mid-Continental's Superintendent, is one of these craftsmen who has a long history in the masonry restoration business. He started as a teenager, joining other family members who worked at Mid-Continental, and helped restore the spires on the University of Missouri—Columbia Memorial Union Tower. He's also been on the team to restore an historic stone bridge in Hayes, Kansas, the federal courthouse in Jefferson City, as well as the Junge Bakery, Newman Building, and Zelleken Building in Joplin.
Mike and his masonry crew of five men began working on the JHN properties in April 2018. In order to decipher the original look of the brick, they had to peel back years of history. They determined that the red brick throughout its lifetime had been stained, lime-washed, and carbon stained. Specialists from Prosoco Company were brought in to determine the proper cleaning compounds to strip the unwanted build-up on the bricks. Once these layers were removed, the bricks were repaired and carefully restored. Architectural conservator, Peter Wollenberg was then brought in to help uncover the original compound used in the mortar joints, which had been painted red over the years. Peter concluded that a white, lime-based mortar with a little aggregate was the best match for restoring the bricks to their original look.
The Mid-Continental crew plans to be finished with the masonry and stone work by the end of 2018. When their work is complete, they will have professionally cleaned all of the brick and stone exterior surfaces, repaired mortar joints in the brick and stone, repaired cracked and broken stonework, replaced broken and damaged bricks, reconstructed the brick façade, and caulked and sealed all surfaces. Thus, helping to preserve the exteriors of the historic Schifferdecker home and carriage house and Zelleken home and garage for their next 100+ years.
Each project Mid-Continental takes on is unique and offers a different story to tell. Mike said the JHN properties will prove to be a signature project for them due to its uniqueness. He adds, "That's why I love working on these old structures. There's always something new to uncover."
For more information on Mid-Continental Restoration Company and to view their work, please visit www.midcontinental.com.